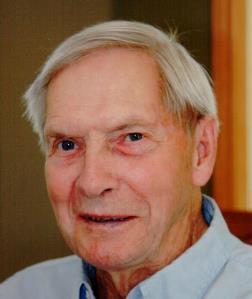 Obituary of Ian McPherson
Ian McPherson (WWII) a resident of Tiverton Park Manor, formerly of Culross Township, passed away peacefully with family by his side at South Bruce Grey Health Centre, Kincardine on Wednesday, December 9th, 2015 in his 96th year. Beloved husband of the former Eva Stewart of Tiverton Park Manor. Loving father of Judy Clark (Don) of Teeswater, Nancy McPherson (Keith Philby) of Kincardine, Liz Dahms (Wayne) of Mildmay, Phyllis Clancy (Jack) of Walkerton, Trudy Cleland (Charles) of Walkerton, Stuart McPherson of Teeswater, Steven McPherson (Gail) of Ripley, Jacqueline Dennis (Mike) of Kincardine and Ronda McArthur (Rick) of Kinloss. Fondly remembered by 23 grandchildren, 21 great-grandchildren and 11 great-great-grandchildren. Also survived by numerous nieces and nephews and by members of the Stewart family. Ian was the last surviving member of his family, being predeceased by his parents, John and Elizabeth (Parker) McPherson and siblings Catherine McPherson and Mildred Hamilton (Wilmer), Ethel Green (Dryden), Nellie McPherson, Donald McPherson, John McPherson (Henrietta), Fred McPherson (Edna) and Jim McPherson (Jean).
Visitation
Tiffin Funeral Home, Teeswater Friday, December 11th, 2015 from 2:00 to 4:00 and 7:00 to 9:00 p.m.
Service
Knox Presbyterian Church, Teeswater (7 James Street West) Saturday, December 12th, 2015 at 11:00 a.m.
Cemetery
Culross-Teeswater Cemetery