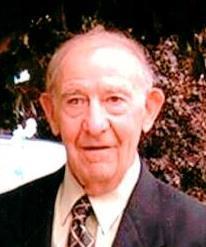 Obituary of G. Joseph Kieffer
Gerald Joseph "Joe" Kieffer formerly of R. R. #2 Teeswater, passed away peacefully with family by his side at Brucelea Haven, Walkerton on Tuesday, December 29th, 2015 at the age of 94. Beloved husband of the late Teresa Kieffer (O'Connor) who predeceased him in August 2008. Loving father of Mary Teresa Reid of London, Anne Kieffer (Bill Major) of Meaford, Bernadette Scott (Jim) of Ripley, Jacinta Wingrove (Grant) of Brampton, Rose Weber (Warren) of Teeswater, Kate Kieffer of Point Clark, Paula Fischer (Greg) of Teeswater and Jackie Kieffer of Lucknow. Cherished grandfather of Joe (Erin), Kathleen, Sara, D'arcy (Jaclyn) and Kelsey Scott, Justin (Amy) and Jenna Weber, Olivia, Tom and Mackenzie Fischer and great-grandfather of Ewan and Duncan Scott. Fondly remembered by sisters-in-law Mary Corrigan of Whitby, Berdella Kieffer of Belmore and Virginia Kieffer of Teeswater and several nieces and nephews. Predeceased by his parents, George and Mary (Cronin) Kieffer, sisters Mary Roth (Clarence), Kathleen Kieffer, Blanche Purcell (Tom), and brothers William Kieffer, Oscar Kieffer (Anna Marie), George Kieffer and Michael Kieffer and brothers-in-law Joseph O'Connor (Irene) and Joseph Corrigan.
Visitation
Tiffin Funeral Home, Teeswater Friday, January 1st, 2016 from 1:00 to 5:00 p.m.
Service
Sacred Heart Roman Catholic Church, Teeswater (14 Gordon Street West) Saturday, January 2nd, 2016 at 10:00 a.m.
Cemetery
Sacred Heart Cemetery