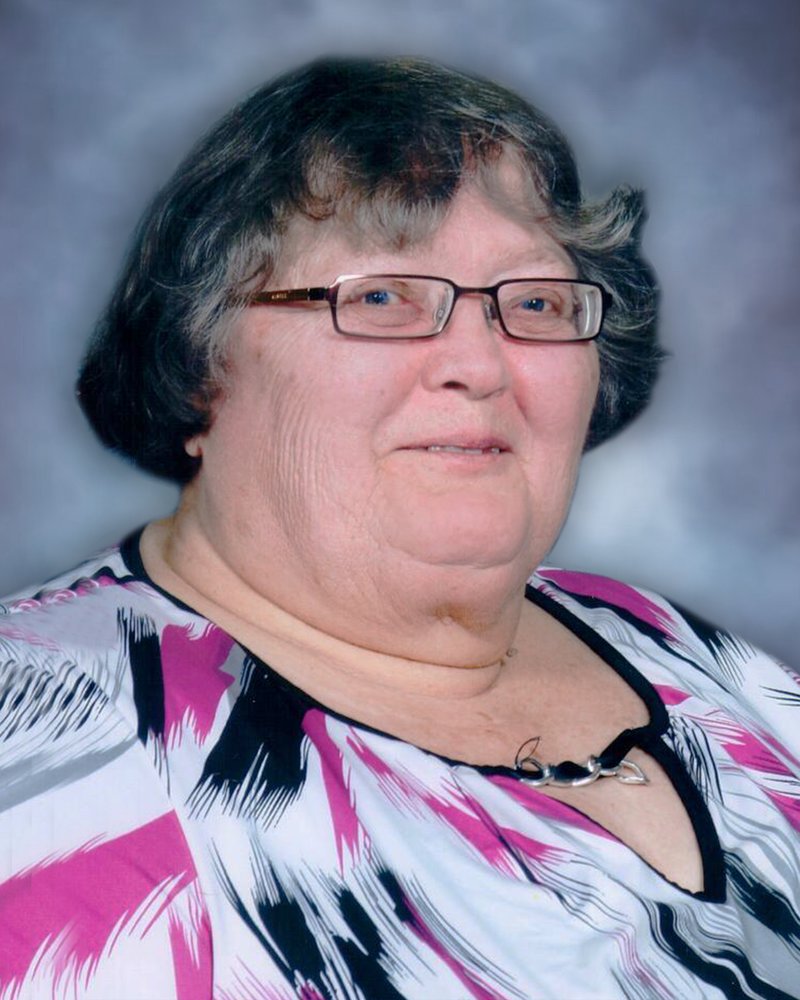 Obituary of Grace Schill
Grace Betty June Schill (née Ryan) of R. R. #3 Teeswater, passed away surrounded by family, at Wingham and District Hospital on Tuesday, November 13th, 2018, at age 73.
Beloved wife of John L. Schill.
Dear mother of Grace Schill, Keith and Judy Schill, Jennifer Batte (Frank Jacobi), Audrey Weber (James Hallahan), Theresa and Dan Schwehr and Ruby Harper.
Grace cherished her grandchildren, Gordon, Jonathon, Kevin, Grace, Jennifer, Tara, Johnny, Keith, Pam, Chrissy, Benjamin, Alanna, Philip, Christopher, Nathan, Marcus, Rumer, Tamara, Colleen, Rebekka, Logan, Diego, Tyrone, Griffin, Rollin, Keegan, Cierra and Reqell and her great-grandchildren, Austin, Robbie, Nicholas, Madison, Arabell, Serenity, Cohen, Drew, Owen, Morgan, Bryan, Cole, Leo and Riley.
Fondly remembered by her siblings, Mary Curtis, Joyce Caudle and Michael Ryan, sisters-in-law Charlotte Ryan, Lona Schill, Dorothy Schooley and Pat Kurzawski (John), brother-in-law Gary Foxton and several nieces and nephews.
Predeceased by her parents, John and Margaret (née Attwood) Ryan, daughter-in-law Donna Schill, sisters Deborah Foxton, Shirley Ernest (Lloyd), Georgina Schneller (James), Linda Edgar (Charles), brother John Ryan and brothers-in-law Robert Curtis, Albert Schill, Jim Schill and Merle Schooley and sister-in-law Ann Schill.
Grace was a dedicated member of the Formosa District Lions Club and C.W.L.
Visitation will be held at the Tiffin Funeral Home, Teeswater on Sunday from 1:00 to 3:00 and 6:00 to 8:00 p.m. Formosa District Lions Club Memorial Service will be held at 5:30 p.m., followed by C.W.L. Service at 5:45 p.m., with vigil prayers at 7:45 p.m.
Mass of Christian Burial will be celebrated from Immaculate Conception Roman Catholic Church, Formosa on Monday, November 19th, 2018 at 11:00 a.m., with Reverend Father Michael Anderson as celebrant.
Interment Immaculate Conception Roman Catholic Cemetery.
Reception to follow at the Formosa Community Hall.
In lieu of flowers, memorial donations to the Formosa District Lions Club or Wingham & District Hospital Foundation would be greatly appreciated as expressions of sympathy.