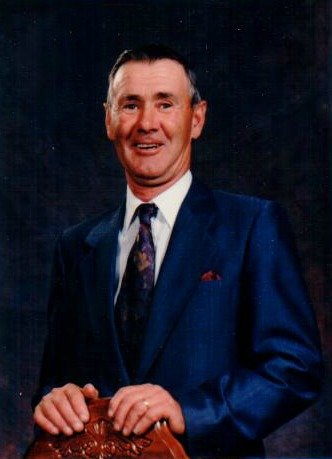 Obituary of Everett Dustow
Everett Claire Dustow of Belmore, passed away suddenly, at South Bruce Grey Health Centre, Walkerton on Tuesday, April 16th, 2019, one day after his 86th birthday.
Everett lived his entire life in Carrick Township, being born there on April 15th, 1933 to the late Herb and Hazel (née Pennington) Dustow.
Beloved husband of Wilma (née Kamrath) Dustow.
Cherished father to his daughters, Pauline Duncan (Mike), Jacqueline Krall (Joe), Shannon Valad (Brian) and Dianne Morton (Neil) and special family friend Linda MacDonald.
Missed by his grandchildren, Becky and Jerimiah, April and Farhad, Sarah and Brett, Nicole, Alexis, Devin and Kelsey, Jo and Nicole and great-grandchildren, Tareq, Craig, Natalia, Arabella, Autumn, Scarlet and Carson.
Fondly remembered by his in-laws, Robert and Goldie Kamrath, Bruce and Debbie Kamrath, Shirley and Wayne Gouin, Eileen Kamrath and Joyce Kamrath and several nieces and nephews.
Everett was the last surviving member of his family, being predeceased by his brothers Orval Dustow (Lois), Roy and Harvey, sister Ethel Willis (Bill) and in-laws, David Kamrath (Betty), Oscar Kamrath and Howard Kamrath.
Visitation will be held at the Tiffin Funeral Home, Teeswater on Friday, April 19th, 2019 from 2:00 to 4:00 and 7:00 to 9:00 p.m., with Masonic Lodge Memorial Service at 9:00 p.m.
The funeral service to honour Everett's life will be held at the McIntosh United Church (1 Bruce Road 28 at Huron-Bruce Road) on Saturday, April 20th, 2019 at 11 a.m., with Pastor Christine Rehkopf officiating.
Interment McIntosh Cemetery.
Reception to follow at the Belmore Arena.
Memorial donations to the Walkerton Hospital Foundation or the Belmore Community Centre Renovation Fund (cheques payable to Township of Howick) would be appreciated as expressions of sympathy.