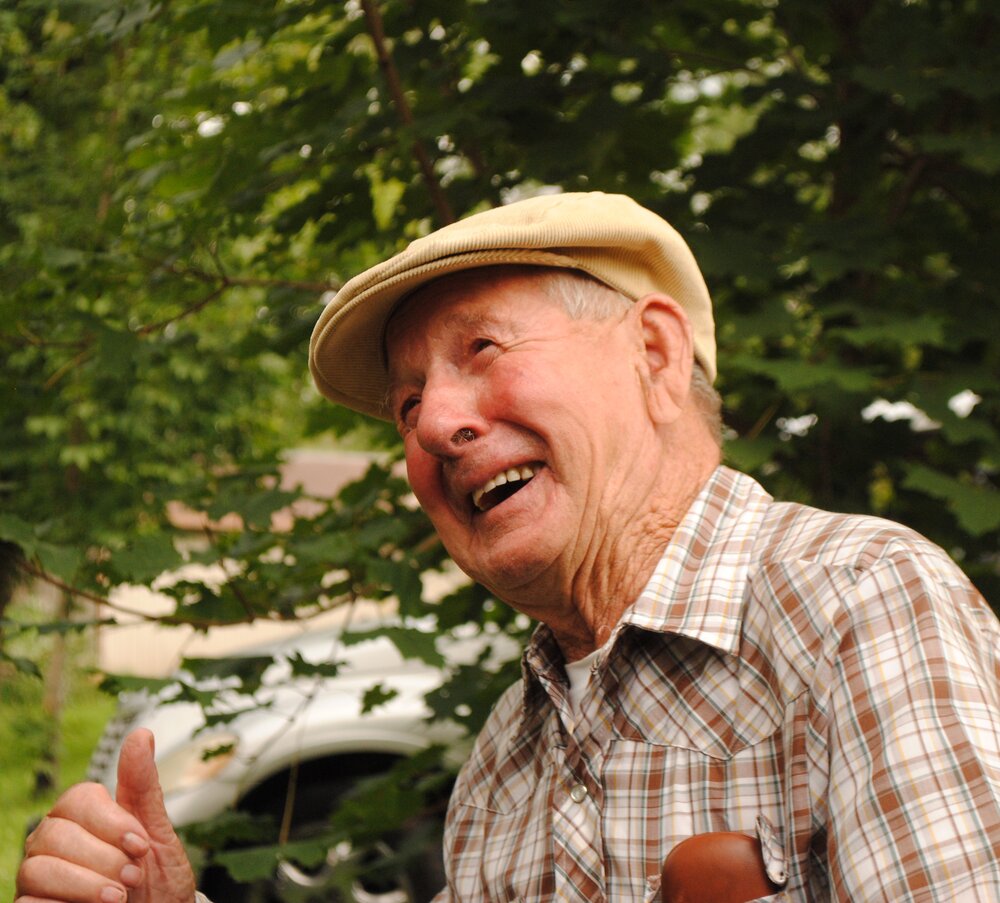 Obituary of Lorne Howe
Lorne Edward Howe, formerly of Teeswater, Ontario, passed away peacefully in his sleep on March 31, 2022 after a brief stay at Southampton Care Centre. Born July 24, 1931, to Ann Kirkpatrick Howe and William Howe, in Culross Township. He and siblings Leslie, Donelda, and Betty, attended Salem Public School. He went on to become a barn framer noted for his antics on high beams, worked in a gold mine in northern Ontario, built bridges around southern Ontario, worked at farming, carpentry, and ran a ski hill and summer camp at the Eagle's Nest, and Eagle Valley Ranch, west of Teeswater. Lorne married Evelyn May Smyth in 1960, and they raised daughters Sandra and Joanne Howe. They divorced in 1996.
Lorne's adventurous spirit led him on many a trip across Canada and the United States, travelling with dear friends and family, and visiting connections far and wide. He always had a friendly smile for folks he'd meet along the way, with a laugh or two, a silly song or a travelling tale to share. His love for the mountains of western Canada led the family to relocate there for a number of years, and his passion for exploring this beautiful land we call home has been handed down through the generations to his grandchildren. Oldtime country dances were a favourite pastime as well, something he shared with his loving companions along the way.
Predeceased by his parents, Ann Howe Green and Bill Howe, brother Leslie, brothers-in-law Robert Charter and Doug Marshall, nephew David Marshall, and loving companion Jean Swanson. Lovingly remembered by his daughters, Sandra J. Howe (Dennis Stier) of Southampton, Joanne Howe of Teeswater, grandchildren Raymon and Patrick Johnstone, and Simon, Connor (Pegah Vaezi) and Maia Turland, as well as his sisters Donelda Charter and Betty Marshall, sister-in-law Velda Howe, former wife Evelyn Howe, loving companion Marilyn Brock of Barrie, numerous nieces and nephews, shirttail
cousins, and friends across the country.
Lorne's family was blessed to celebrate his 90th birthday with him in July, 2021 at a family reunion at the home farm. He was able to reminisce with his sisters, share a magic trick with nieces, nephews and grandchildren, and make new memories to treasure. We know it meant so much to him to see them all again.
Cremation has taken place. The family will be holding a private graveside service at Smith Cemetery, South Bruce. Friends and family are warmly invited to a Shindig in Celebration of Lorne's Life at Eagle Valley Ranch at the barn on July 24, 2022, from 2-4pm.
Donations to the Bruce Trail Conservancy (brucetrail.org) would be appreciated as expressions of sympathy.
Condolences and fond memories can be shared on Lorne's webpage.