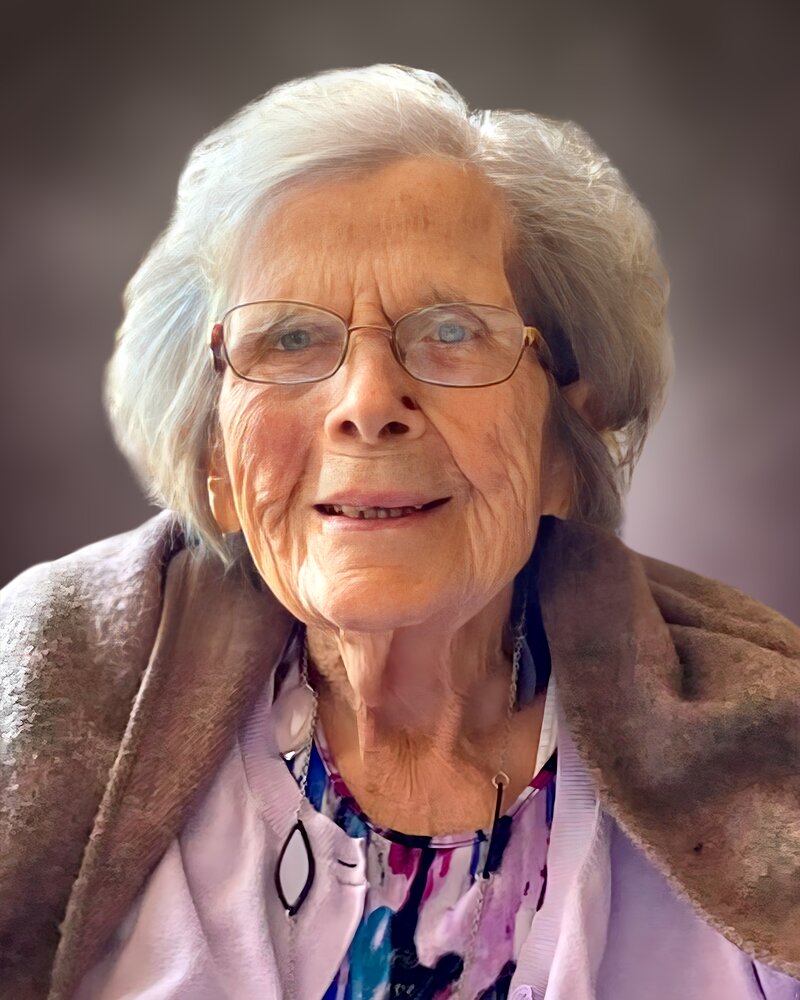 Obituary of Thomasina "Ina" Ireland
Thomasina Lorraine "Ina" Ireland (née Harkness) a resident of Brucelea Haven and formerly of Teeswater, passed away on Wednesday, February 1st, 2023, at the age of 100.
Beloved wife of the late David Ireland (2003).
Cherished mother of Brian (Gisele) Ireland, Bob (Phyllis) Ireland, Barry (Carolyn) Ireland, Wendy (Allan) Lamont, Bill (Janet) Ireland, Bevin (Betty) Ireland, Brent "Ben" (Carol) Ireland, Wanda (Rob) Pellett and Melody (Rob) Soers.
Loving grandmother of Denise (Carl), Diane (Steve), Doug (Tracy), Debbie (John), Glenda (Bill), Roxane (Jamie), Darren (Tanis), Rhonda, Dave (Wendy), John (Claudia), Joe (Jennifer), Julie (Trevor), Holly (Chris), Stacy (Evan), Corey (Melissa), Ashly, Craig, Kristy (Dave), Amanda (Ean), Charles (Laura), Charmila (Nick), Chris (Kirsten), Jarris (Cara), Jenise (Kyle), Cole, Brayden, Jasmine (Drew) and Tyson (Rachel).
Sadly missed by her great-grandchildren, Ben (Jessica), Caleb (Sarah), Lukas (Bailey), Annalise, Leah, Enya, Tegwyn, Matthew, Jacob, Sam (Alana), Tim, Hannah, Daniel, Chelsea (Nils), Destiny (Ashton), Dallas, Britney (Justin), Josie, Kolby, Summer (Greg), Tori (Jesse), Meaghan (Devan), Emily, Davis, Liam, Johnny, Paityn, Kylie (Kenzie), Keaton, Declan, Sunny, Winter (Travis), Walker, Willow, Saige, Sophie, Mya, Atley, Sydney, Travis, Zoe, Corbin, Dexter, Annan, Nolan, Grace, Duncan, Elsie, Ivory, Avery, Connor, Harper, Halle, Marlee and Peyton and great-great-grandchildren, Beau, Jett, Amelia, Carter, Alexis, Colt, Bryson, Brinley, Everleigh and Hudson.
Ina will be fondly remembered by numerous nieces, nephews, great-nieces, great-nephews, former neighbours and many members of the Teeswater-Culross community.
Predeceased by grandchildren, Cindy, Mike, Amy and Lyle, her parents, James D. and Mary Ellen (née Morton) Harkness, brothers George Harkness (Margaret), Midford Harkness (Orlene), Wilfred Harkness (Isabel), Wesley Harkness, Gordon Harkness (Elaine), James Harkness (Florence) and sisters, Bertha Struthers (James), Jean Gamble (George) and Nellie Reid (John). Ina was the last surviving member of her family.
A casual visitation will be held at the Tiffin Funeral Home, Teeswater on Saturday from 4 to 9 p.m.
The funeral service to honour Ina's life will be held at Knox Presbyterian Church, Teeswater on Sunday, February 5th, 2023, at 2:00 p.m.
Reception to follow at the Teeswater Community Centre.
Spring Interment Culross-Teeswater Cemetery.
Memorial donations to Knox Presbyterian Church, Make-A-Wish Foundation or a charity of your choice would be appreciated as expressions of sympathy.